Chemical Services

Overview
Specialty Blend
Package and Storage
Chemical Delivery
Laboratory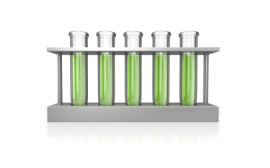 Houghton Chemical offers several chemical services on a contract basis: Specialty Blend, Package & Storage, Chemical Delivery and Laboratory
We operate three facilities in Boston, MA (railcar accessible); Carlstadt, NJ; and Scranton, PA.
All of our facilities are capable of handling flammable and/or hazardous materials.
Either through our own fleet of trucks or common carrier, we can arrange bulk and dry freight transportation.
Our services are complemented with our own in-house laboratory for chemical testing.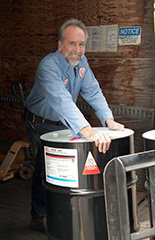 Houghton Chemical has three professional chemical toll blending facilities.
Through the years we have blended many different types of chemical solutions, including: heat transfer products, engine coolants, water treatment products, solvents, coatings, electronic component manufacturing chemicals, additive packages and automotive chemicals
At our Boston facility we are licensed to denature alcohols.
We have equipment dedicated for product purity, such as separate chemical tanks, pumps and pipelines.
We utilize multiple blending tanks with specialized features and various blending methods for customized solutions.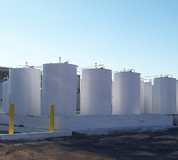 A reliable third party chemical warehouse is crucial to geographical expansion into new markets.
Our chemical storage buildings offer dry freight storage for hazardous materials.
Our chemical storage tanks offer non-flammable and flammable liquid storage.
We provide private labeling options.
All of our terminals are secure facilities and are OSHA compliant.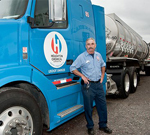 It is important to utilize a reliable chemical transport company with experience in shipping hazardous material.
Houghton Chemical operates an advanced chemical transport service for bulk and dry freight in the North East and various Mid - Atlantic states.
Our specialized transportation services include: non-hazmat and hazmat shipping.
Our drivers are experts in shipping hazardous materials and are CDL certified with hazmat and bulk endorsements.

Houghton Chemical operates an on site laboratory analyzing organic chemicals, solvents and glycols.
Our laboratory provides quality assurance, certificates of analysis, sample testing, specialty formulations and experience with various hazardous and non-hazardous materials.
Our chemists and technicians are available for support, questions and advice.
Contact Us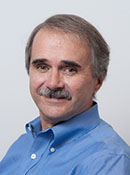 President
Bruce Houghton
Phone : 617-254-1010
ext 134
Email bhoughton@houghton.com
Technical
Tom Murphy
Phone :617-254-1010
ext 139
Email tmurphy@houghton.com
Fun Facts

Polaroid
Houghton Chemical logo
Houghton Chemical tank farm
Doing business in Allston (Boston) since 1960
Boston's Logan Airport
Houghton Chemical Brand Names
Where Pah|Nol® name came from?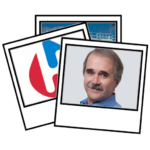 Did you know that when watching your photo magically appear, it was a partly made possible by Houghton Chemical.
Houghton Chemical was Polaroid's sole provider of photograph solvents? Due to Houghton's quality procedures and safety standards, Polaroid would not accept a solvent delivery from any other company.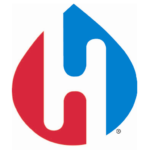 Did you know that the Houghton logo was one of the early designs of Joe Selame. Joe lived in Chestnut Hill, MA and was the neighbor of Houghton's 2nd generation president, Proctor Houghton.
Joe went on to design many popular images for companies such as: Goodwill Industries, CVS Pharmacy, and Eastman Kodak.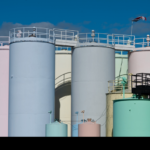 At one time the Houghton Chemical tank farm, like most others, was painted white. In 1968, Joe Selame, designer of the Houghton logo, proposed the idea for a colored tank farm.
Proctor Houghton and fellow employee Barbara Daly, spent hours determining each tank's ideal color.
The pastel tank farm has been a historic landmark ever since.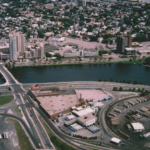 Did you know that since 1960, Houghton Chemical has been doing business at 52 Cambridge Street in Allston (Boston), MA.
We have seen many changes in our immediate neighborhood during the last 50 years.
The DoubleTree hotel was built on the old Coca Cola plant. The Mass Turnpike and exit 18 was constructed outside our window. The CSX rail yard, once the hub of rail transportation in Boston, was shut down and dismantled.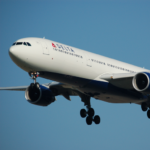 Did you know that Houghton Chemical helps make sure the flights out of Logan airport run on time? During the winter season, Houghton Chemical is on call 24 hours a day to make sure deliveries of wing deicer arrive on time to Logan airport.
While the rest of New England is digging out from yet another snowstorm, Houghton Chemical is hard at work.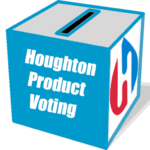 Do you know where Houghton Chemical's product names come from? Both our GeoSafe® and SAFE – T – THERM® brand names are the result of an employee contest.
WINTREX® was an old antifreeze name purchased from Monsanto and reinvented to create one of the products in our Heat Transfer Fluid department.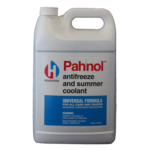 Pah|Nol® is the first trademarked Houghton Chemical brand name. It was created in the 1950's by Phillip Alan Houghton.
The first three letters, 'PAH', represent our founder's initials.
The 'NOL' comes from the last 3 letters of methanol, which was the principle ingredient in automotive antifreeze at the time.
Associations